Our natural swimming pool with mountain spring water
Refreshing relaxation in Zillertal
The mountains above Tux are Europe's cradle of water. Thousands and thousands of springs and streams flow through nature. It finds it way, crystal clear and pure, from high above to down below into the valley. To our natural swimming pool. Sometimes it is turquoise blue, sometimes it glistens emerald green in the sun. Jump right in! Best headfirst. Or lie down on the shore and get lost in your dreams. That is what holidays are for.
Our natural swimming pool in Tux:
open from May to October
150 m2 swimming area
purest mountain spring water of drinking water quality
direct access to the Eden wellness area
exclusive for hotel guests
sunny sunbathing lawn and hanging loungers
a breathtaking view of the Tux glaciers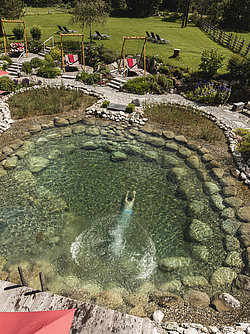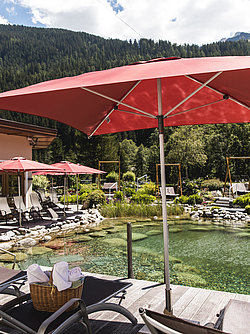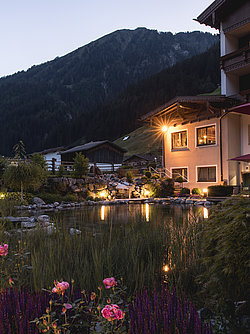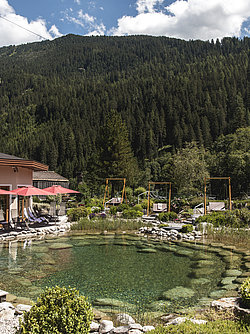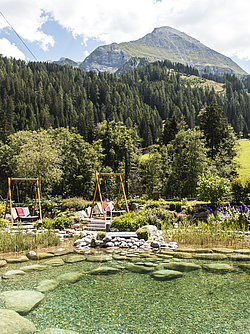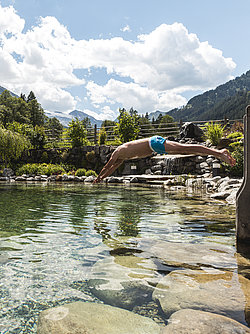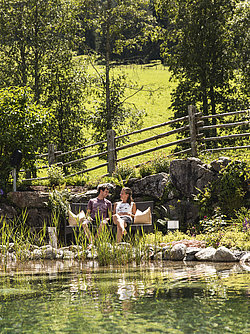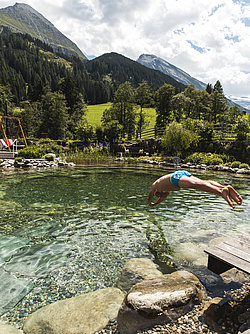 At the pool.
If there is a place where I could stop the world for a moment, it would be here. Here I can breathe in deeply, here I can revive myself. My gaze glances over the glistening white glacier peaks and the colourful flapping of the dragonflies. Where are you flying to my little friend? Take me with you a short distance.
This short reading passage is part of our Eden booklet. ​​​​​​​